As a speaker my passion is about helping you find your own inner strength. If you are in need of a complete life change or just looking to motivate your team, I can help. Every client's needs are  customize to fit your group's individuality. With laughter and passion we can get you/your team on a fast track to a more positive working atmosphere. My clients are everyone from individuals and couples to businesses all with one thing in common…the desire to improve.
[su_divider top="no"]
Meet Up Group
CodeRedLadies is a group designed by women who want to take their knowledge and experiences and pass it to the younger generations. The group meets monthly to discuss different business and life topics that can be used to empower women. Our goal is to show the younger generation that they have the power to change and better their communities.
[su_divider top="no"]
Balancing Your Life Radio
From raising kids, to balancing the checkbook, or dealing with the everyday madness of this beautiful thing we call life, everyone could use some advice on how to make it through. Starting on September 8th, 2014, every Monday night from 7-8 I will be your host as we figure out the "STUFF" in life. Each week I will share my time with different experts in order to bring you the best help. From dealing with health care or finally getting to that resume, I will be there to help and laugh with you on.
[su_divider top="no"]
From Homeless to Happiness
What I've learned along the way. This talk is to support, lift, enlighten people to realize that our past does not have to be our future because we are Victorious never a Victim. How we look at life will determine what we get out of it. Who do you see when you look in the mirror? Taking personal responsibility for our lives is very important.
[su_divider top="no"]
Jr. and High Schools 
…pointing our youth down the right path
Bonnie often speaks for  junior and high schools from around the country. Bonnie's experiences will open your eyes to the things you have in life, and help you to become more self-aware, as well as teach you respect for yourself, and others. Bonnie's topics for youth groups include, but are not limited to:
Achieving personal goals and overcoming obstacles
Addictions
Bullying, labeling and stereotypes
Communicating, listening, and making your words your best friends
Contributing to one's community
Finding courage and eliminating fears
Finding your way
Friendship
How to find love in all the right places
How to think positively and use that thinking to solve problems
Learning how to say "no"
Leadership
Parent and sibling issues
Patience
Peer pressure
Self-esteem and respecting yourself
The acceptance of others and fitting in
As a result of her efforts, Bonnie has received countless letters from junior and high school students ranging in age from 12 to 18 and educators alike.
[su_divider top="no"]
Women's Groups
…an amazing perspective, from an amazing woman
Bonnie,  being a confident and powerful woman, is the perfect addition to any Women's Group. Her stories of tragedy, and joy serve to deliver a most powerful, and empowering, message to Women everywhere. She is often asked to speak for Women online groups a 60-minute long conference that helps their 5,000 participants to restore faith and celebrate life, as it is a blessing. Bonnie's topics for women's groups include, but are not limited to:
Appreciation
Ask "How do I make this better?"
Bring forth the best of you
Courage to keep a positive attitude and strengthen individuality
Communicating, listening, and making your words your best friends
Finding your "safe place"
Gratitude
Leadership
Learning How to Say "No"
Laugh with yourself
Making your words your best friend
Motivation creates a balanced life through communication
Never ask yourself, "Why?"
Overcoming obstacles
Reinventing yourself, and others
Self-esteem, self-awareness, self-growth
Stripping your label
[su_divider top="no"]
Business, Corporations and Organizations 
…the business of inspiration
Bonnie will ignite your organization with a new and dynamic energy by providing you with the keys to open doors and break down barriers that currently exist in your company. Bonni will help your employees discover the remarkable confidence that comes from their individual contribution and thus unlock the potential that will push your company into the forefront of the business community. Bonnie's topics for corporations and organizations include, but are not limited to:
Achieving personal goals and overcoming obstacles
Communicating, listening, and making your words your best friends
Community outreach
Diversity
Finding courage and eliminating fears
How to think positively and use that thinking to solve problems
Human resources
Leadership
Motivation and creating balance
Patience
Self advocating
Self-esteem, self-awareness, self-growth
[su_divider top="no"]
Religious and Spiritual Organizations 
…a strong testimate of faith
Bonnie is often invited to speak for religious or spiritual groups. Her magnificent tales often are the catalyst for renewed faith in her audience. Through her story, Bonnie opens her heart to share the things that have made her the person she is today; giving her audience a unique perspective into life's triumphs and tribulations. She promotes forgiveness, trust, faith, gratitude, acceptance, and better self-awareness; her message built around her own battles with each. Bonnie's topics for religious or spiritual groups include, but are not limited to:
Acceptance
Choosing your words wisely
God's sense of humor
Gratitude
Grievance
Eliminating fears and overcoming obstacles
Empowerment
Faith
Forgiveness
Know that you are never alone
Self-esteem
Self-awareness
Self-growth
The human spirit
Trust
[su_divider top="no"]
Saying "I Do"/Marriage Mentoring
Found that special someone? That one you want driving you crazy for the rest of your life? FANTASTIC!
Planning to spend your life with people can be stressful. Every couple thinking about getting married should take time to seek guidance. Marriage is a life-changing event that should be gone into with full confidence. Having someone there to mentor you as you begin your journey can help begin a more solid foundation. Let me be your mentor. As a licensed Officiate, I have had the honor of bringing together many couples in love and commitment. As a wife, I have personally gone through many of the ups and downs of marriage. I will be your confidant as the two of you discover questions or just need advice on how to handle the amazing changes that you will face as a newly married couple. Let me bring you into my classes both individually and as a couple so the day you say your "I Do's" you can be ready.
My marriage mentoring workshops can be one-on-one, couple, or seminar style. As a speaker I love working wedding conventions, church classes, or private sessions. Marriage is a beautiful adventure, l. It's my goal to see you get started on the right foot because going in with your eyes wide open makes all the difference to a successful marriage.
[su_divider top="no"]
Coaching Programs
 The Ultimate Girls Night Out!
Remember those home parties where you are to someone's house and shop for make-up, beauty products or jewelry? They tend to be a great girls night out, complete with goodies and great company.
Well…The Ultimate Girls Night Out is well Extreme, this ain't your Mama's Tupperware party.
Don't get me wrong–I love to light candles, try on pretty jewels and shop for pretty clothes with the best of them–but what you'll find at this Ultimate Girls Night Out is golden. A gathering of like-minded women that want to question, explore and learn together to find deeper meaning in their lives.
Oh, and we'll laugh a lot too.
As the hostess of this party you'll get to choose from one of these themes:
Ultimate Women's Goals
Know what you want but don't know quite how to get there? Maybe you don't even have a clue about what you want, but there's something tap-tap-tapping at your soul, telling you that there's more out there for you. We'll dig into it and come up with a plan.
Ultimate Women's Priorities
Who knew life could be so busy?? Just when you think it's calming down a bit, there is more to plan and more to do. What should you do first? What should you delegate? What should you blow off? Find out how to get your priorities straight and be a happier, calmer you.
Ultimate Women's Fabulous Self
It's time for you get your brag on and celebrate the fabulous YOU! Does that feel awkward and uncomfortable? All the more reason you need to believe it. With the help of our friends we'll figure out the many wonderful things about ourselves so we can get more comfortable sharing these things with the world!
Ultimate Women's Style
Do you feel good in your clothes? Are you dressing in a way that satisfies your inner fashionista and tells the world who you Really are? We'll fill out a Style Questionnaire and make sure you are doing just that.
Ultimate Intimate Desires
Are you feeling a bit let down in the Intimacy department? Are you tired or is he? Has the romance left the building? Together we will come up with a plan to get your groove on.
What an amazing story and message Bonnie Bradshaw delivers, but most of all her passion for helping others is so genuine that it makes working with her such a pleasure!
Ashely Dangerfield
(CEO/President at Positive Life Network)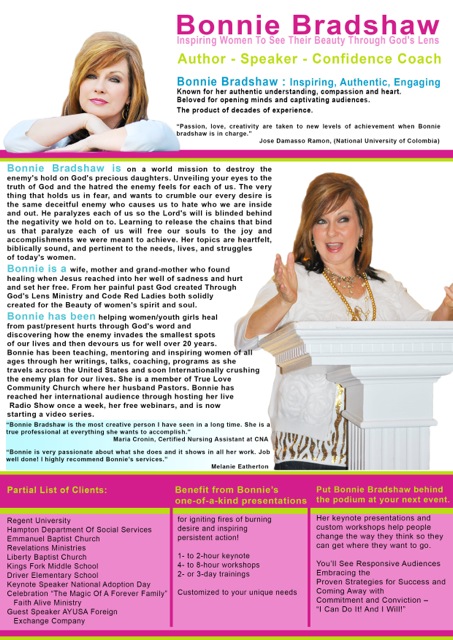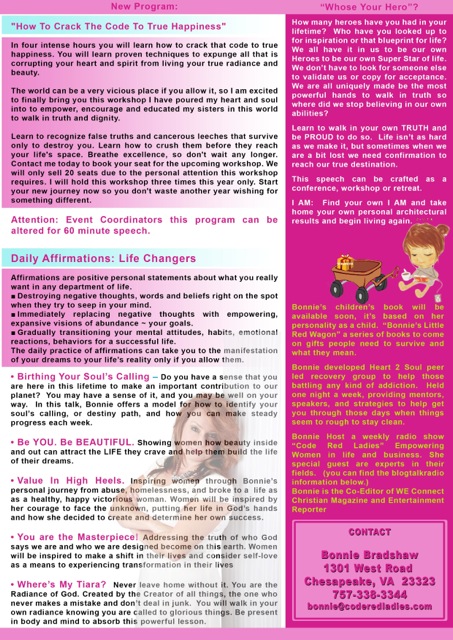 Click here to view Bonnie's Full One Sheet